I must admit that I was really lost on this one. I think there were just too many options, and I poured over the boards again and again wondering what I should do. Plus time was still an issue, and I'd picked up a commission in the last week that needed my attention. (Fortunately, it will serve well for Alternative History.) But on another review of the Art Challenge, I remembered how much I'd liked the recreated jewelry by
Debbie Mac Rory
, seen
here.
I used to make jewelry all the time before sewing took over my life. I thought it would be fun do make some again, plus I could make something to go with my big gown project.
I searched through pages of Edwardian and 1910's jewelry to find something I wanted to recreate. A lot of it was the sort I had neither the budget nor the tools to make. But I really took to some of the multi-stranded styles.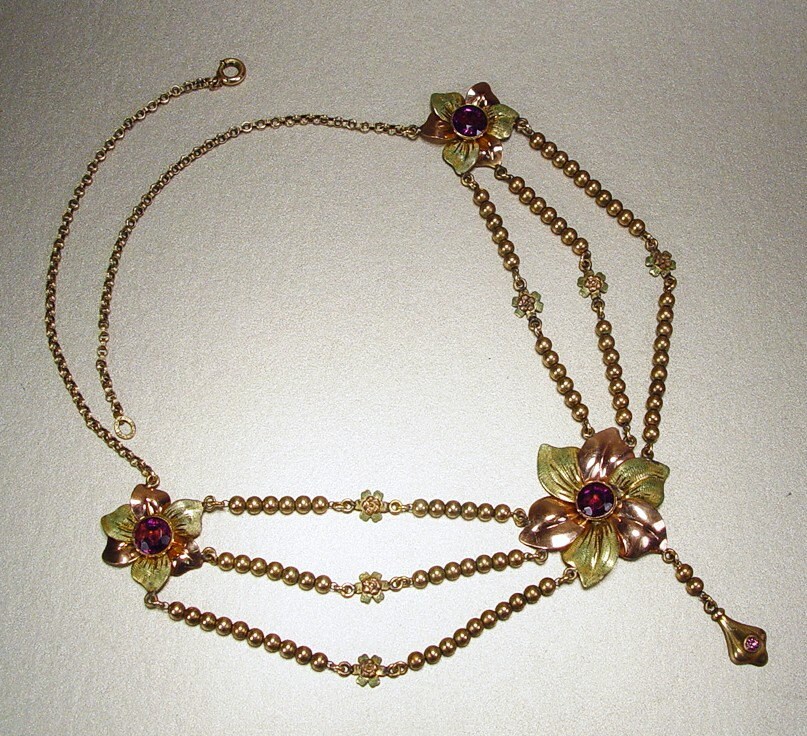 With no decent beading stores nearby, I had to make do with what I found at Joann and Michaels. I bought gold chain, spacers, jump rings, and some pretty gold pendants to assemble my necklace.
Those giant pearls weren't working for me though. I popped them out with pliers.
It only had four rings on the back and I needed six, so I added spacers to the back to give me an extra ring.
This piece had an open lattice design, so I just looped the extra rings through it.
I couldn't find stones in the colors I wanted, so I created an enamel effect by painting the centers with gel nail polish and then finished with Modge Podge Dimensional effects. I'm pretty happy with the way it turned out, although when my gown is done, I will probably adjust the length, and possibly tweek the color a tiny bit.
The Challenge:
HSF Inspiration
Year: 1910's
Notions:
Assorted jewelry findings
How historically accurate is it? The style looks right, but given that it was assemble with pieces from the local craft store, paints, and pliers, I can't really say much for the construction.

Hours to complete: 3-4 hours because of the painting.
Total cost:
$20-25ish?
And the result:
Came out a touch more purple than I wanted, but I can live with it.
I think I need to make the "stone" a bit higher, like a cabochon.