I am a bit of a geek (understatement) and one of my fandoms is the Marvel Cinematic Universe. My girlfriends and I have been known to cosplay particular characters, and my choice is always the same. My favorite MCU character is Captain America. Last year, I decided to make an evening gown inspired by Cap 2: Winter Soldier. Specifically this look:
I dithered about the design, but I had plenty of time before the movie premiered, right? But as usual, my Ren Faire took over my life, and I never got started on it. When I signed on to the HSF, I thought about re-interpreting the gown in a more historical way. After all, the first Cap movie takes place largely during WWII. Once I decided to go that route, I could see the design much more clearly.
I selected Simplicity 1052, which had the fitted bodice and square shoulders that I wanted. I also wanted to add the drapey front peplum that resembled the Victorian Bustle. I referenced Simplicity 1813 and Simplicity 1637 for that style.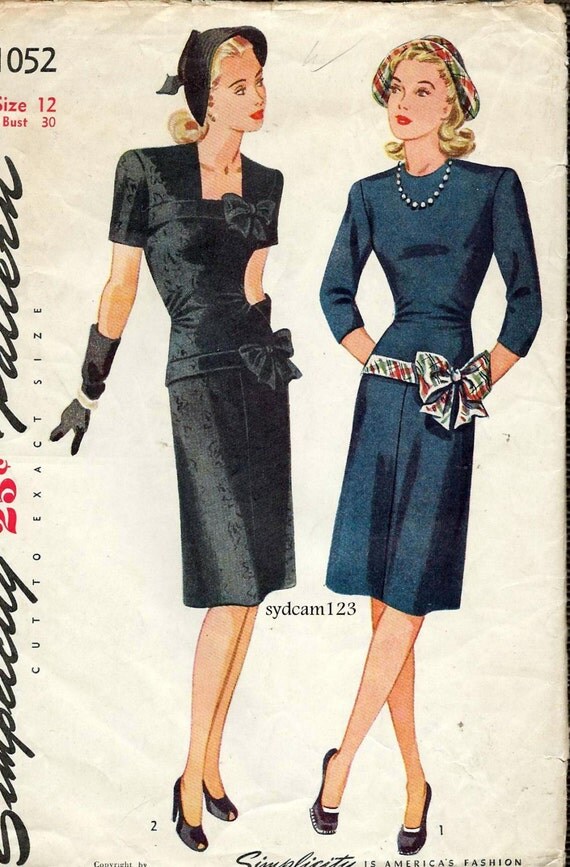 Once I had mocked up 1052, I didn't care for the waist gathers, so I changed them to waist darts
like in 1813. I also changed the single bust dart to a double one, a feature from another forties pattern that I liked the look of.
Waist gathers
Waist darts
Changing the single dart to doubles
I had intended to have short sleeves, but they just wouldn't lay in a way I was happy with. So I added a slight cap and left it at that.
For the drape, I used the front of my Truly Victorian Waterfall overskirt and extended it to go all the way around my waist. Typically, these drapes were worn in the front. But I was twisting it around to pin in place and really liked the way it looked on the side.
The final touch was to add the Captain America accessories. I made two stars out of Wonderflex, covered them in glitter, and added a rhinestone star in the middle for accent. I backed them with extra fabric from the dress and pinned them in place. The same technique was used for the wings in my hair to match Cap's helmet.
Overall, I was pretty happy with the look of the dress. If I did it again, I probably would use different fabric. I adore the luster of peachskin, but it frays like nobody's business. The darts are already showing wear where the stitches are, and I've only worn the dress once for any length of time.
The Challenge:
UFO or PHD
Fabric:
Navy blue poly peachskin
Pattern:
Simplicity 1052, with some influence from Simplicity 1813
Year: Early 1940's
Notions:
Wonderflex, glitter, glue, safety pins, blue invisible zipper (don't judge)
How historically accurate is it?

It's made from a vintage 1944 pattern, with some alterations. The invisible zipper is all wrong, but I have a preference for them.
Hours to complete:
No idea
First worn:
April 12th, for the Chess Match Cast Party.
Total cost:
Probably 50ish
And just for funsies...my first rendition of Cap (totally not my design -
original here
):
Two of my best girls playing Thor (girlbydaylightcosplay.tumblr.com) and Loki (artandrhinos.com)